Mobiset.ru
Read full version of the article: http://eng.mobiset.ru/articles/text/?id=24

Mobile library: Reviews
Review of Bluetooth-headset Nokia BH-100
We glad to meet devices of the company, that hasn't followed anybody or anything, but goes with confidence its own separate way. Nokia continues to produce headsets. The range is wide: male, female, austere, youth, expensive and cheap. Today we take a closer look at its new creation – model Nokia BH-100.
Table of contents:
Sales package

In the tidy white-and- blue box we found out tidy packed headset, charger, 2 reserve ear loops, reserve rubberized cover and user guide in almost all languages, except Russian. But then near we saw user guide in Russian… We had a strong feeling, that it had been xeroxed just before we opened the box: the sheets were cut careless, on the pages were printed numbers written by hand. We even remembered college lectures and numbered pages in copy-books…
To our mind, this doesn't accord with Nokia brand.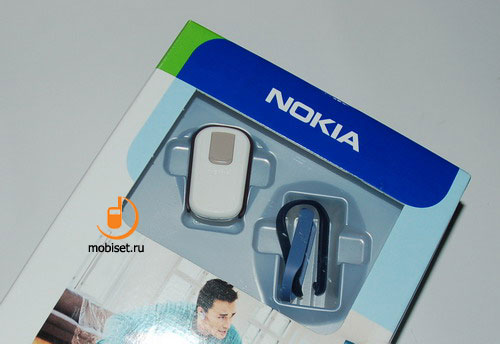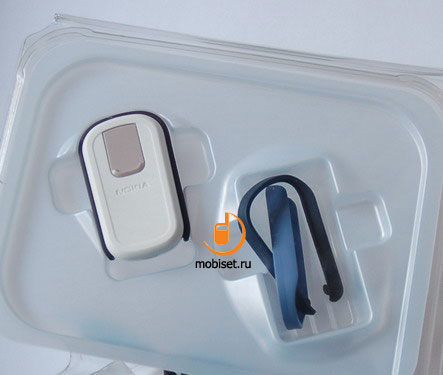 Appearance of Nokia BH-100. When we opened the box, it seemed to us, that the manufacturer forget to enclosure the loop. After long and desperate search, we found two reserve loops and understand the trick.

The headset has an ivory colour with a receive button coloured in light brown. It is good and pleasure mixture.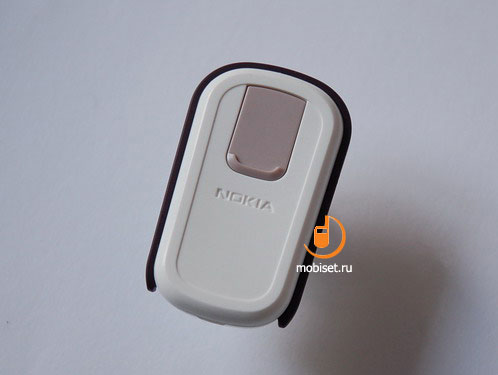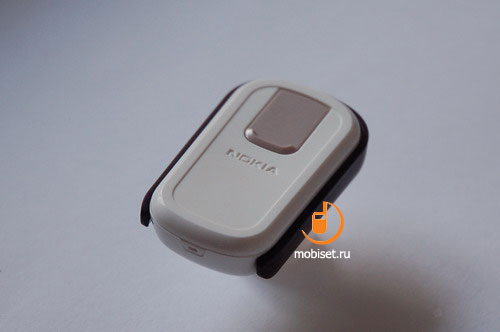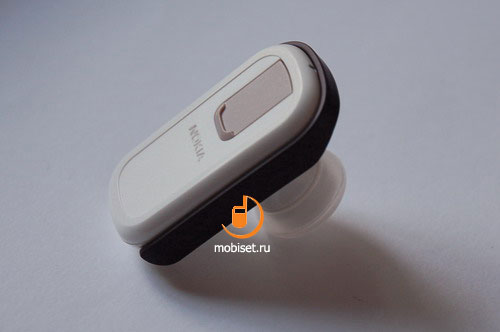 On the top edge locates a small charger and active indicator. Though it is alight in light-green and red colour, the light is almost imperceptible, especially in the daylight, so you don't look in it as a Christmas tree.

The rear part houses the part, that is put into the ear, and small power key.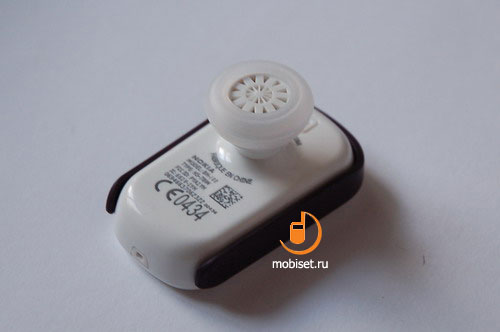 The ear loop pressed to the headset can be taken off from left and right, that is very handy both for those who fix it on the left and on the right ears.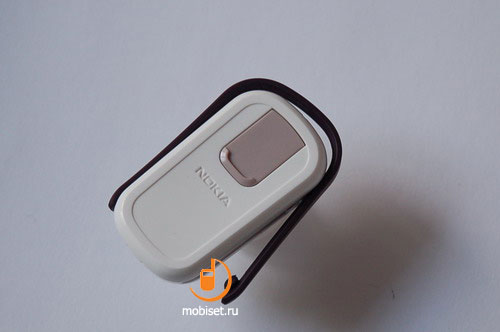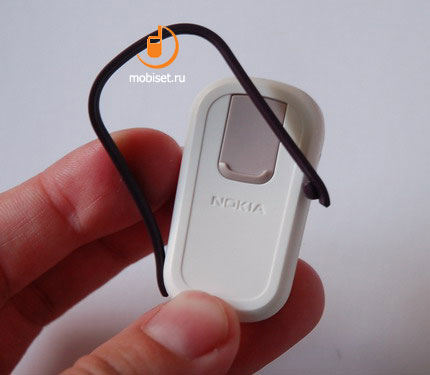 Under the loop we saw the charger slot. We'd like to note again how simple and tidy the headset is. It look refined and stylish.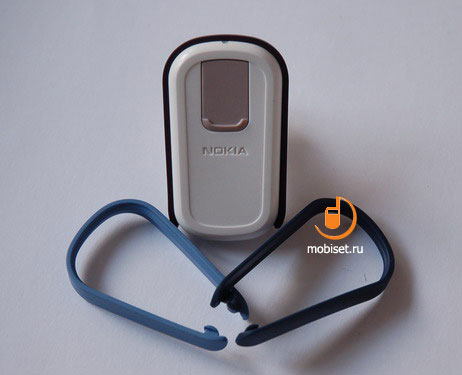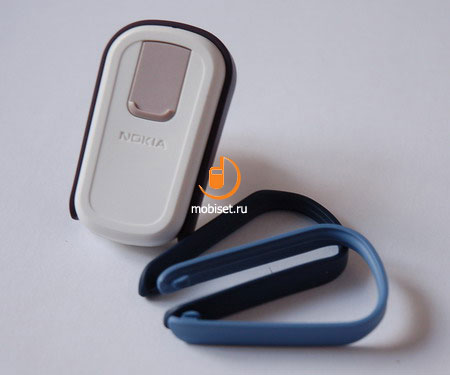 Control features of Nokia BH-100. To connect the headset we needed not more than half of a minute. Everything connected fast and without problem. We tested it with "native" phone Nokia and Alcatel.

I'd like to say some words about fastening. The ear loop proved to be too flexile. It can't but affect the fastening. Sometimes you can be afraid, that the headset falls, especially when you correct your hair, put on the hat or, for example, when you squeeze through the crowd to the escalator in the underground. But the firmer loop couldn't clasp the casing of the headset in the way like this. Though, its aim is not be folded. We buy it to use, not to decorate.

The earphone was tried to fall several times.

But it is important to note, that the ear is not tired after several hours with the headset. Only very sensible ear can notice the 11g weight.

And I'd like to advise you, if you started wearing the headset on the left ear, I mean you start tearing the loop from the right end, don't try anything then and don't put it on the right ear, otherwise the "extended" loop falls out and you run risks to lose it.

The keys are very handy. The power button is pressed easily, but as usual it takes time to switch on the device. The receive/reject button also proved to be good. Its surface wide and thanks to the salient denticle can be easily found. The pressures are light with distinct sound.


Work quality. The device has perfect sound quality. It covers the distance in 8-10 meters. You can easily go with it into next room in the office or go to smoke in the hall. The headset still works good.

The loudness was also pleasant to us. It is neither too intensive, nor quiet. We didn't notice any noises, creaks, hissing or voice distortion. Our interlocutors were also content. They heard us as good as always.


Compatibility. Of course, Nokia BH-100 is compatible with vast amount of phones, having Bluetooth on board. Below we list only several.

Original handsets of Nokia:
Nokia N95, N93, N92, N91 8GB, N91, N90, N80 Internet Edition, N73, N72, N71, N70, N-Gage QD, N-Gage, E70, E61, E60, E50, 9500, 9300i, 9300, 8910i , 8800 Sirocco , 8800 Sirocco Gold, 8800 Gold, 8800 Black, 8800, 7710, 7610 Dictionary, 7610, 7600, 7380, 7370 , 7370, 7280, 6822, 6820, 6810, 6708, 6681, 6680, 6670, 6630 Music, 6630, 6600, 6288, 6280, 6270, 6260, 6233, 6230i, 6230, 6151, 6131, 6125, 6111 Pink, 6111, 6103, 6021, 5500 Sport, 5300 XpressMusic, 5200, 3660, 3650, 3250, 3230 and others.

And also mobile headsets supporting Bluetooth 2.0 EDR with profiles Handsfree 1.5 and Headset 1.1:
BenQ-Siemens, Pantech, SonyEricsson ,Panasonic SA7, Motorola, LG, Samsung , Siemens and others.


Targeted audience. Nokia BH-100 is most of all aimed at the youth. But has no strict features, that relate it to some particular group. Both men and women can use it. But the latter can't wear big clips or ball-like ear-rings with the headset, as it firm fits the earlap and can disturb them or vise versa, the headset may hinder an ear-ring.

The price is moderate and available to the buyers with middle income.


Specifications of the headset Nokia BH-100


Weight: 11g


Dimensions: 41,5x23,5x10mm


Battery: 75mAh Li-Pol


Work distance: up to 10m


Battery life: up to 6 hours in talk mode, up to 150 hours in standby mode


Connectivity; Bluetooth 2.0


Street price: approx 1300 rub/ 50$
Conclusion. Without doubt, Nokia BH-100 is a good device. Its secret is simplicity and moderate price. At the same time it has well thought-out design, which doesn't look cheap. Classical colour mixture marks out BH-100 from dozens of grey and black headsets. The minimal set of options is not a drawback at all. Not everyone has need for complicated devices. The headset is light and rather compact. It works perfectly.

Advantages




Interesting design


Affordable price


Disadvantages




© Written by Sophia Chayka, Mobiset.ru
Translated by Arina Urban.

Published — 13 July 2007




Read full version of the article: http://eng.mobiset.ru/articles/text/?id=24