Mobiset.ru
Read full version of the article: http://eng.mobiset.ru/articles/text/?id=36

Mobile library: Reviews
Review of Bluetooth-headset Jabra BT620s Bluetooth Stereo
Meet Jabra Bluetooth-stereoheadset for those, who like forgotten devices. It is known, that the headset can be connected with several devices at once. But imagine: you are a music lover.
Table of contents:




You like to listen to music very much. But your phone, unfortunately, doesn't support memory cards; you can't download favorite tracks in it. You handset is far from being modern, but you don't want to leave it, that's way you have to carry with you both phone and MP3-player. So you listen to music all day long and miss important calls. Alas, there is no way out to you, but no… There is one! The Jabra headset allows listening tracks with your player and finds necessary approach to your cellular phone. When an incoming call, the player is temporarily stopped, and then continues its work.

Sales package. The plastic ball, where the developer put the headset, also contains a charger, reserve foam rubber pieces to the earphones, USB-cable, user guide.

Design of Jabra BT620s Bluetooth Stereo. The design of the headset reminds common earphones.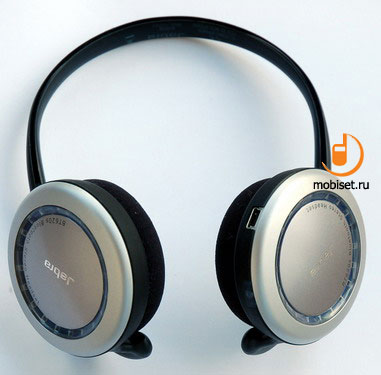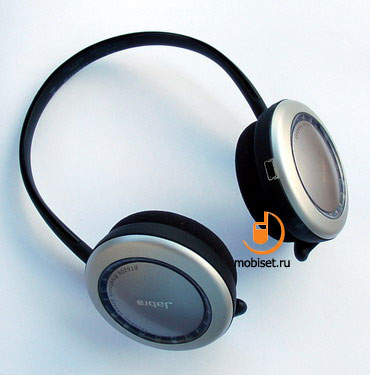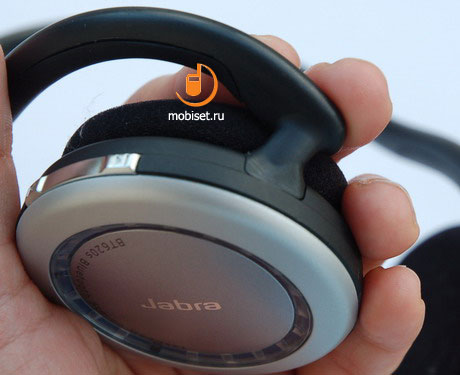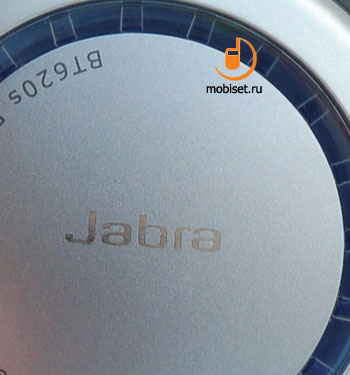 The only difference is in the absence of the wire. The ear loop runs over the neck. This way of fixing suit any man, but some women may have problems with it, especially those with unusual hairstyle, i.e. a hairdo with hairpins on the back of the head. Of course, you can regulate the location of the earl loop and even throw it back on the neck, but in this case the earphones don't fit the ears closely.

The ear loop is made of plastic, rather pliable. It has a rubberized insert in the place, where it adjoins to the ear. So, in the upper part of the left earphone you see a volume rocker key. "+" and "-" buttons are relief and easily groped with a finger.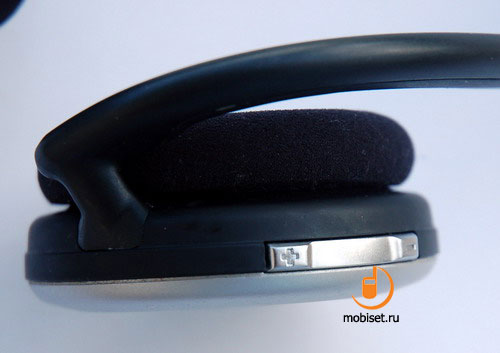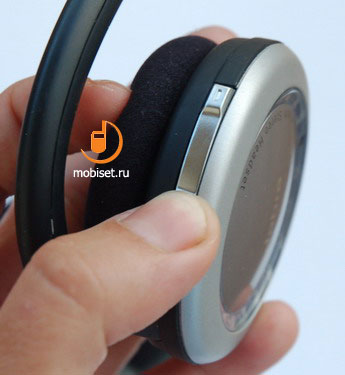 The right earphone features the rewind button (when listening tracks) on the same symmetrical place.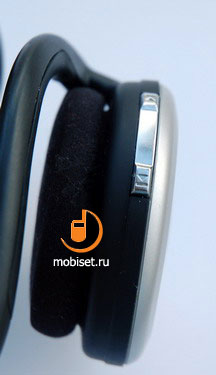 Beneath locates the cable slot, which doubles for charging. Near it you see almost unnoticeable reset hole.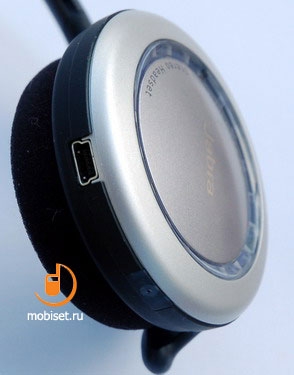 There is no separate power button. To switch on the headset you are to press long the round platform in the middle of the left earphone.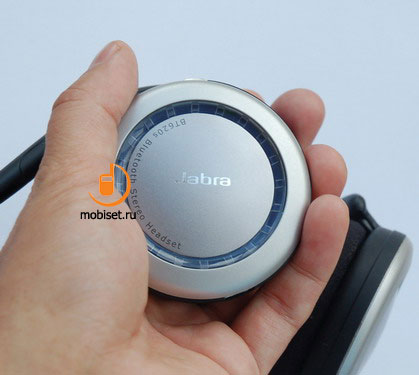 The platform is edged with the diode; depending on the event the latter glows with turquoise or ruddy colours. The foam rubber pieces protect ears from the firm details.

There are two ways how to wear the headset. You can press the ears with the earphones. In this way the loop lays on the neck. Or you can wear the headset in the following way: the bend of the loop may catch on the top of the ear. As an example: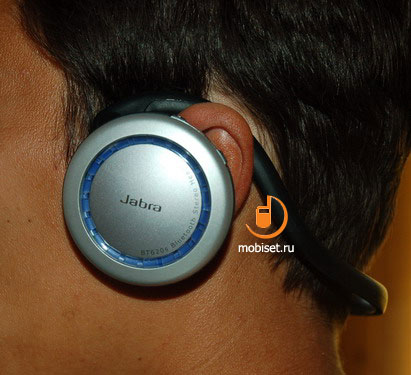 Control features. The device is controlled very easy. When the incoming call you should press the platform on the left earphone. To regulate volume you are to press the volume rocker key. It is easily found with a finger. You should remember that the left earphone controls calls; the right one is in charge of playing, rewinding and so on. The earphones fit firmly and don't fall because of you motions.

If your phone has a voice dial and you want to use it, press the platform and say the necessary name. The latter, of course, should be in the list of the voice numbers.

The weight of 90 g can't be compared with 9g or even 14-19g (weight of the common headsets). But the Jabra BT620s Bluetooth Stereo is unusual headset. That's way you have to wear on the head the weight like this.

Work quality. We were satisfied with the work quality. The MP3-tracks sound perfect; we made sure in the very good signal quality. There were no noises in the speech of the interlocutor, the link was steady. The device was rather loud. In the playing mode the battery lasted less than claimed 14 hours, our result was 12 hours. But still it is not bad. You are hardly to listen to music (even the most favorite) more than 4-5 hours a day. In the talk mode the battery lasted about 14,5 hours. To charge the device from empty to full you need an hour and 40 minutes.

Compatibility of the Jabra BT620s Bluetooth Stereo

Nokia N95, N75 6288 E62 6085 7390 7373 6151 E50 5500 SPORT N72 N93 N73 6708 6131 6125 6103 6282 6234 6233 9300I N80 N92 N71 7380 7370 E70 E61 E60 3250 6280 6270 6111 N90 N91 N70 8800 6021 6230I 6681 6680 6822 3230 7710 6670 7280 9300 6260 6630 6620 7610 9500 6230 6820 6810 3660 7600 6600.

Motorola RAZR RIZR KRZR K1 A1200 ROKR E2 E1070 C390 E770 V195 ROKR E1 A732 A728 A910 Q E895 E608I V3x V557 L6 L2 PEBL U6 V360 V560 E1120 E1060 A1010 SLVR L7 V635 V547 V535 V620 A780 V555 RAZR V3 V501 E398 E680 MPX100 MPX220.

Sony Ericsson K618 M608 Z610i V630i M608i Z550i W850i W710i Z710i W700i Z525i K510i Z530i W300i K800i K790i W950i K610i M600i W810i W900i P990i W550i W600i S600i Z520i K680i V600i D750i K750i W800i K600i Z800i V800i S710i P910i S700i K700i T630.

Samsung X630 E780 X500 D840 P310 X830 Z720 Z620 Z370 E380 D830 P920 ZV50 D900 X820 E370 X670 Z400 Z550 E900 D780 D870 i310 D300 Z710 E870 D820 D800 Z540 Z510 P300 E770 E360 ZV30 S500I E860 S410I SERENE X700 E760 X810 D550 E880 Z140 X800 D510 E530 E640 E750 D730 E730 P860 P850 D600 D500.

BenQ SL80 SL91 E81 E71 EF61 M81 A58 EF71 CL71 CF61.

Siemens AP75 SGF75 SG75 SL75 S75 SP65 SXG75 M75 CX75 SX66 and other handsets supporting Bluetooth 1.2.

Targeted audience. Without doubt the targeted audience is young people. And they are funs of the MP3-tracks, who can't live without favorite songs and tear themselves away from them only for phone talk. And when both devices are combined in the wonderful headset like this, they make life be a fantastic dream.

Specifications of the headset Jabra BT620s Bluetooth Stereo




Weight: 90g


Dimensions: 146x15x61mm


Work distance: up to 10m


Battery life: up to 16 hours in talk mode, up to 14 hours in the playing mode, up to 230 hours in standby mode


Connectivity; Bluetooth 1.2


Street price: approx 2500 rub/ 100$


Conclusion. One more peculiar headset appeared on the market of mobile devices. We haven't found glaring disadvantages during the tests. The design is also beyond complains. Our mark is good. But the shop assistants in the centers of mobile phones claim, that the device sells not very well and the reason is in the high price. But the genuine music lovers are unlikely to spare expense to this gadget. Ant the latter in its turn repays with long and trouble free work.

Advantages:




Uncommon design


Long battery life


Íåäîñòàòêè




© Written by Sophia Chayka, Mobiset.ru
Translated by Arina Urban.

Published — 10 September 2007.




Read full version of the article: http://eng.mobiset.ru/articles/text/?id=36